Wednesday, July 27, 2011 at 4:16PM
From author Rick Bragg comes this beautiful and heart-pulling tale of what happened when the winds died down.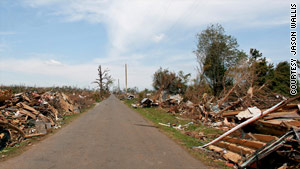 One of my favorite paragraphs come in around the top:
We are accustomed to storms, here where the cool air drifts south to collide with the warm, rising damp from the Gulf, where black clouds roil and spin and unleash hell on Earth. But this was different, a gothic monster off the scale of our experience and even our imagination, a thing of freakish size and power that tore through state after state and heart after Southern heart, killing hundreds, hurting thousands, even affecting, perhaps forever, how we look at the sky.